Amiko A6 Combo 4K UHD Hybrid DVB-S/S2 + DVB-C/T2 OTT IPTV Media Streamer Receiver
Android 7.1 | MYTV | 2.4GHz WiFi OTT IPTV Media Streamer ONLY £99.00!
OFFICIAL UK & IRELAND AMIKO DISTRIBUTORS.
SPECIAL DEALS FOR TRADE & RE-SELLERS!
CONTACT US FOR DETAILS!
FREE
UK AND NORTHERN IRELAND SHIPPING
WITH ALL AMIKO ANDROID DEVICES!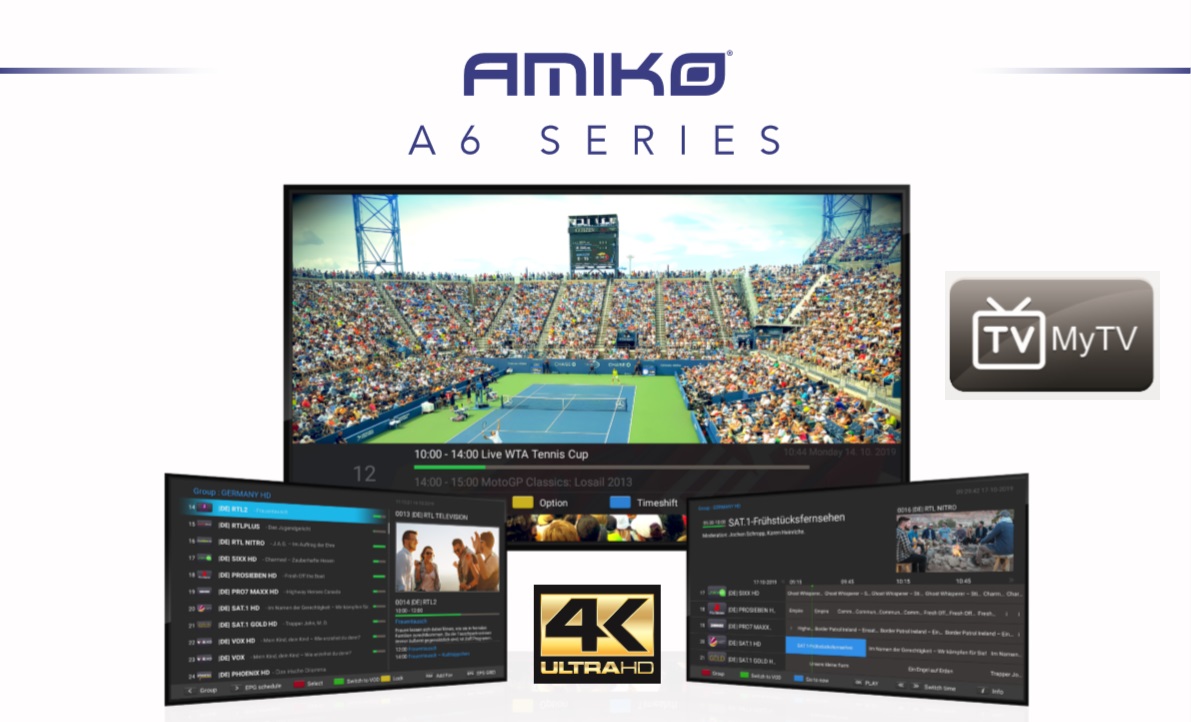 The new A6 Combo will provide customers with years of Satellite or Terrestrial TV viewing through its built in DVB-S/S2 Satellite or DVB-C/T2 Terrestrial tuner as well as media streaming enjoyment through various apps including Amiko's exclusive MyTV app that supports up to 4x IPTV Portals + m3u playlist!*
*Note that MyTV does not come with any channels,
video content or portal's pre-loaded.
Amazing specification! Smart learning remote and external IR eye included! Excellent for use with apps such as Kodi, Plex, and many IPTV apps! Instant record, Timeshift, catch-up support (if supported by IPTV provider). Schedule event reminders and recordings via EPG and schedule manager.
Powered by a fast Quad-core 64bit A53 up to 2.0Ghz, 2GB DDR Ram and 8GB eMMC flash. Built in internal 2.4GHz b/g/n WiFi 300mb.
Regular online updates for MyTV and firmware updates.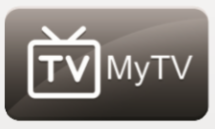 TWO YEAR HARDWARE WARRANTY INCLUDED.
FREE HDMI LEAD INCLUDED!
FREE FUSED EU TO UK BRITISH STANDARD COMPLIANT PLUG ADAPTER FOR UK CUSTOMERS.
Easily add up to Four portals & Playlist.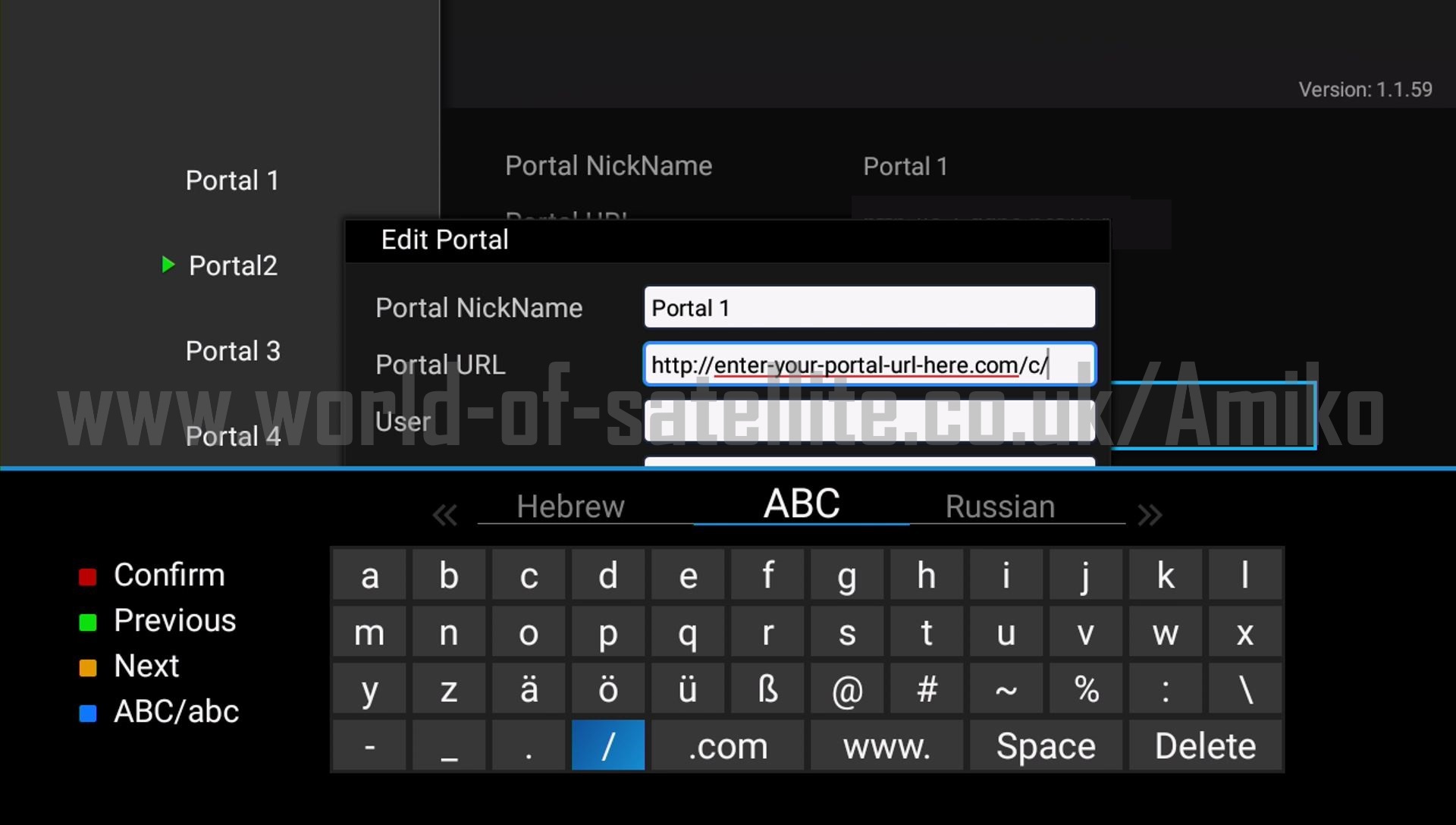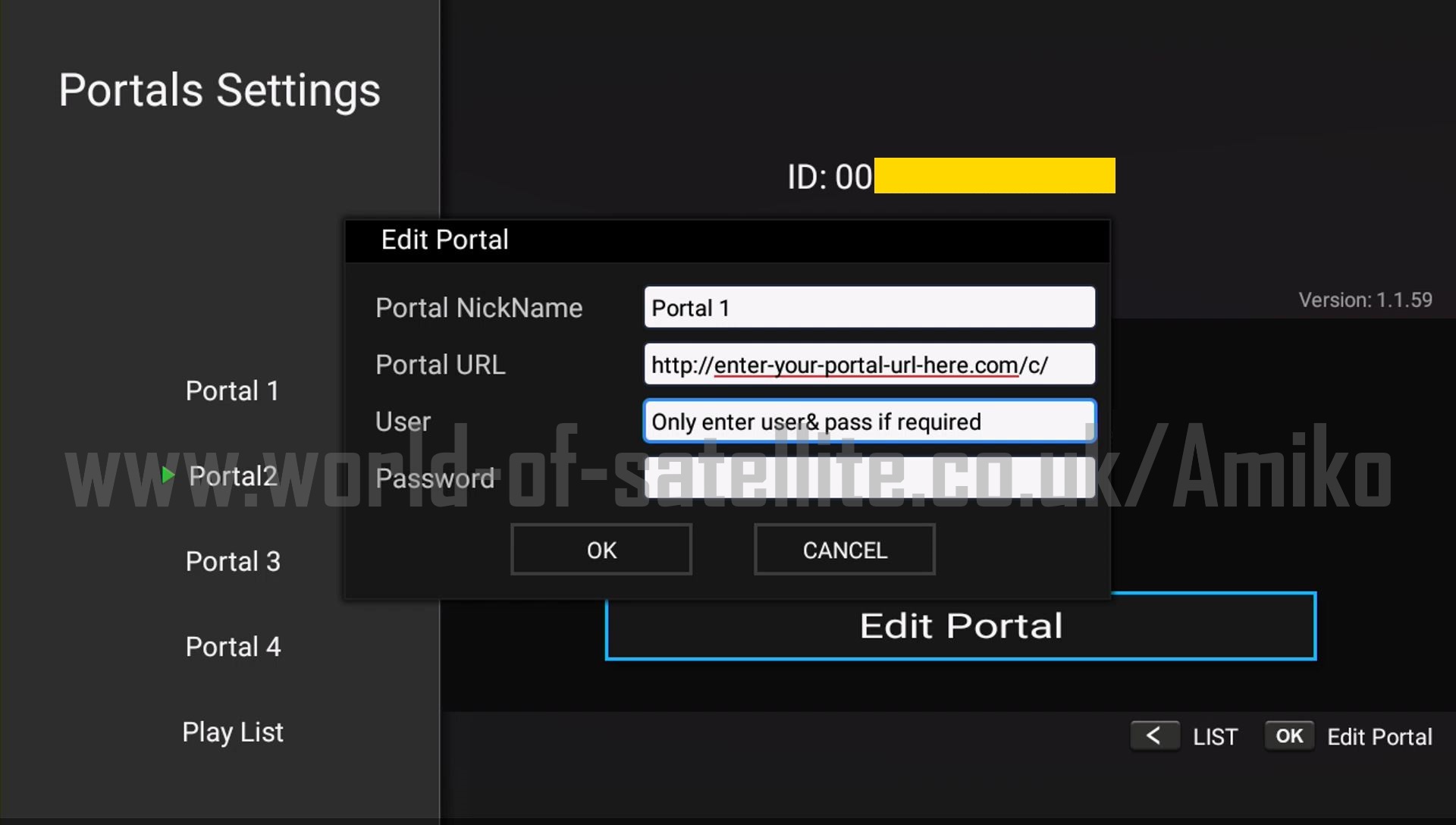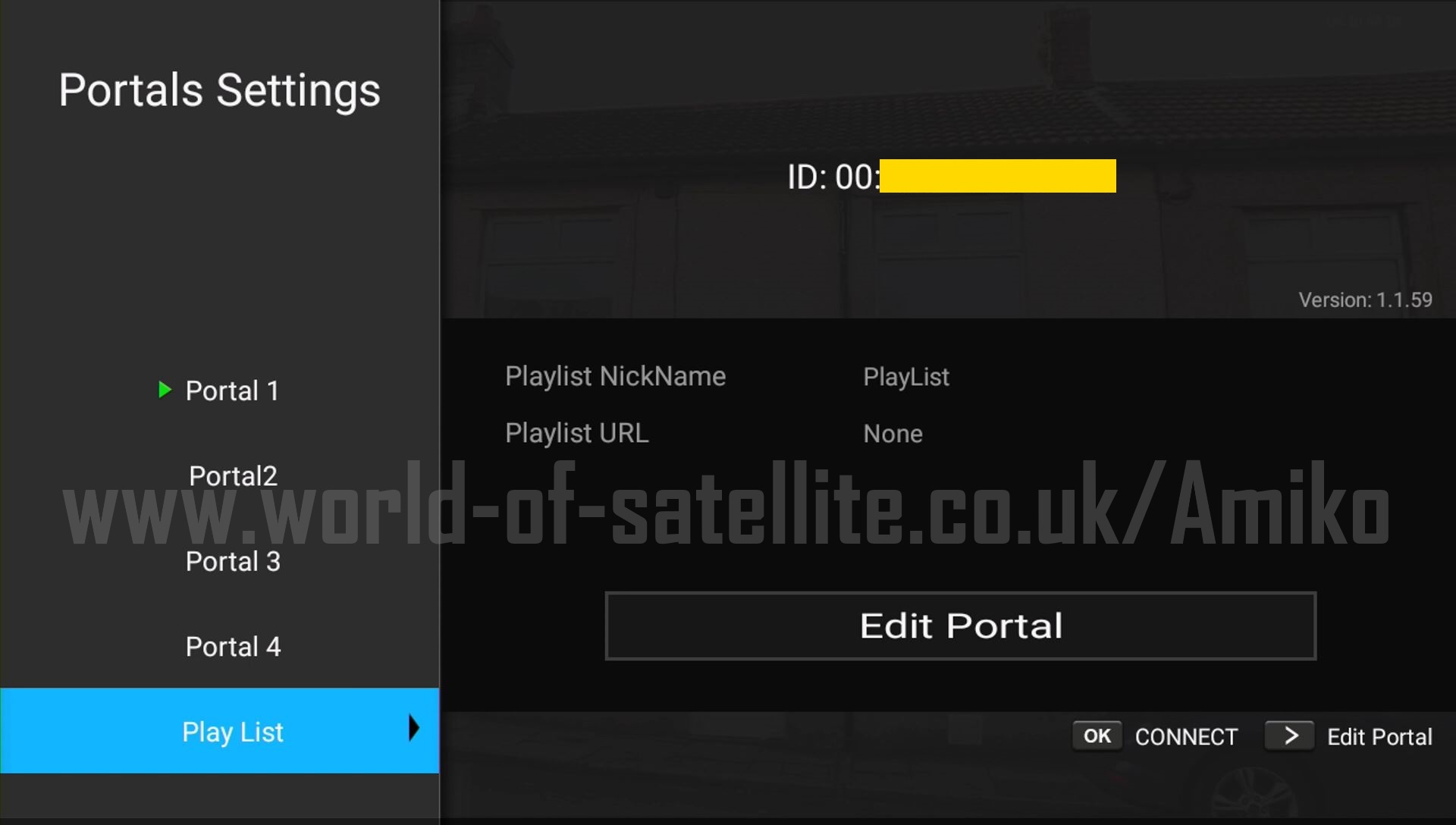 MYTV Main Menu.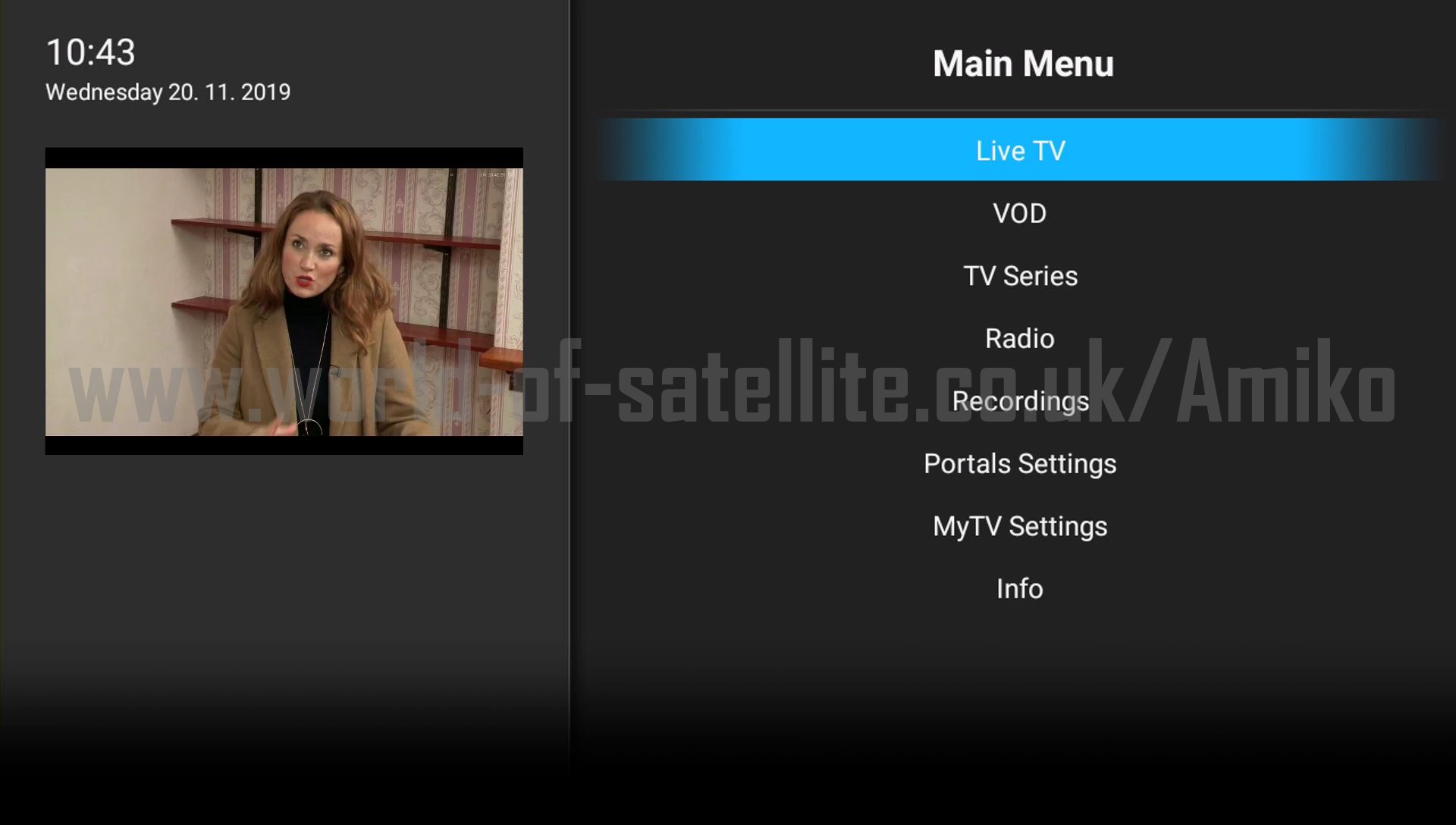 MYTV Portal Settings, Default or Slky Blue HD Skin options.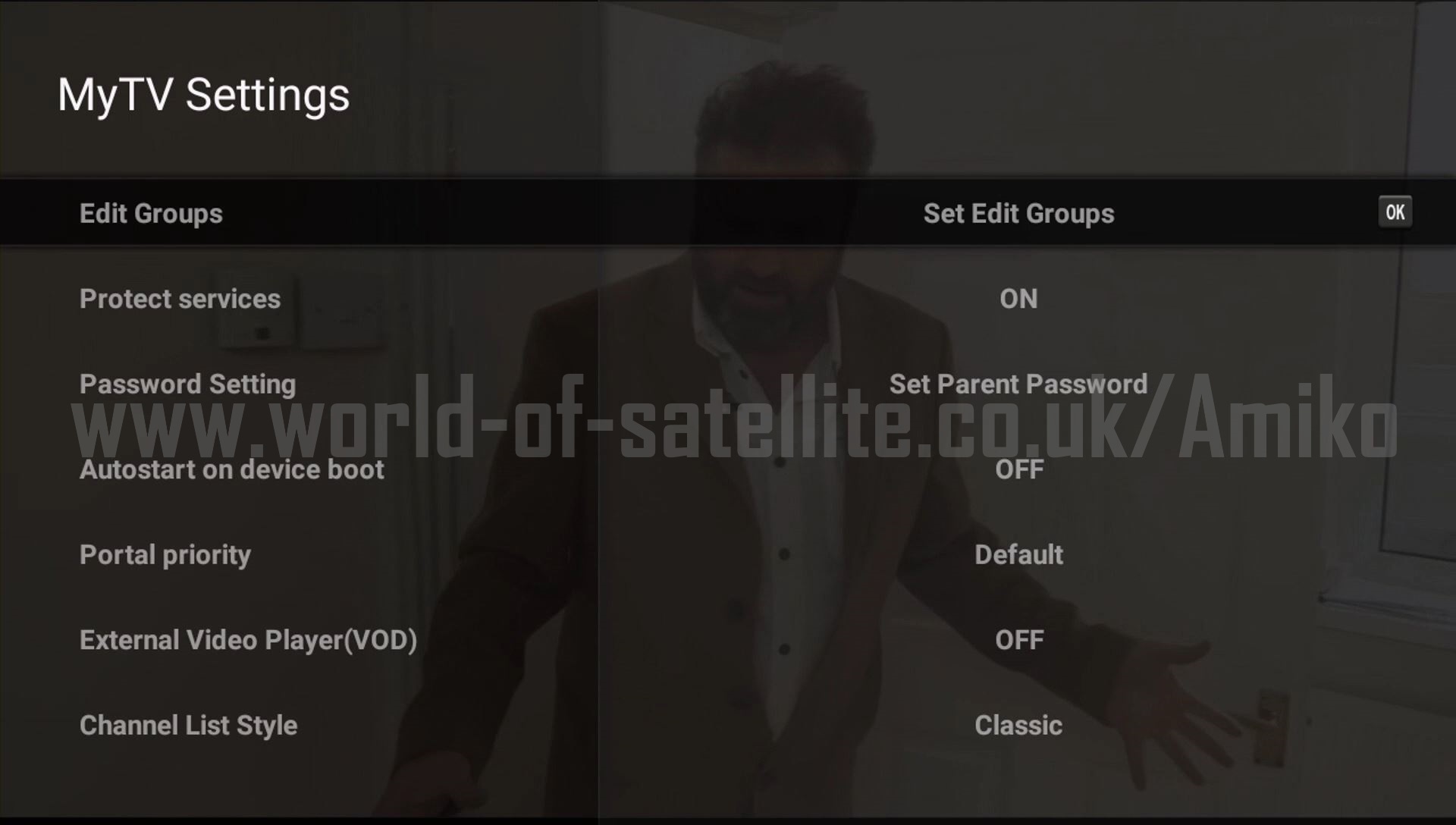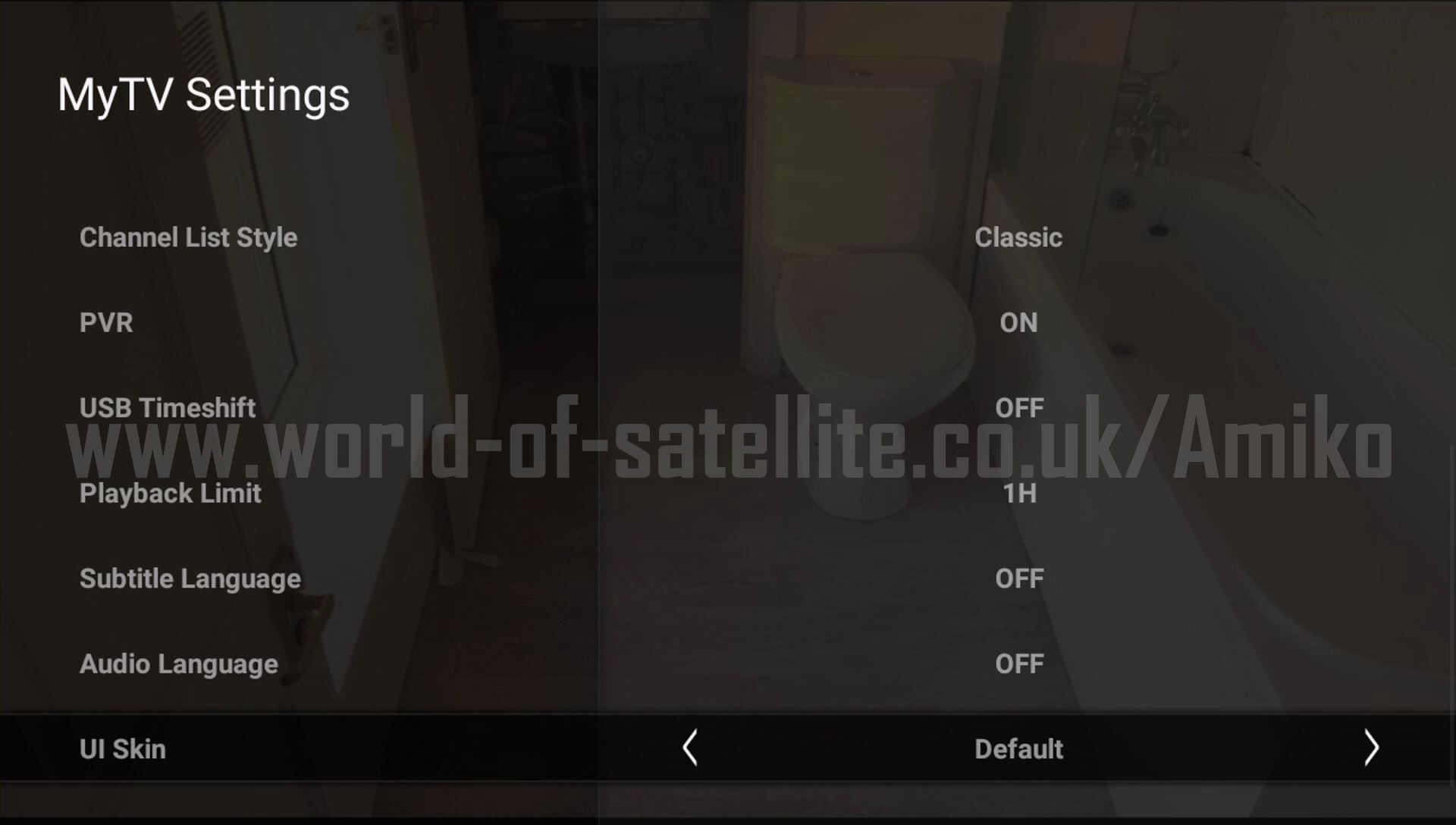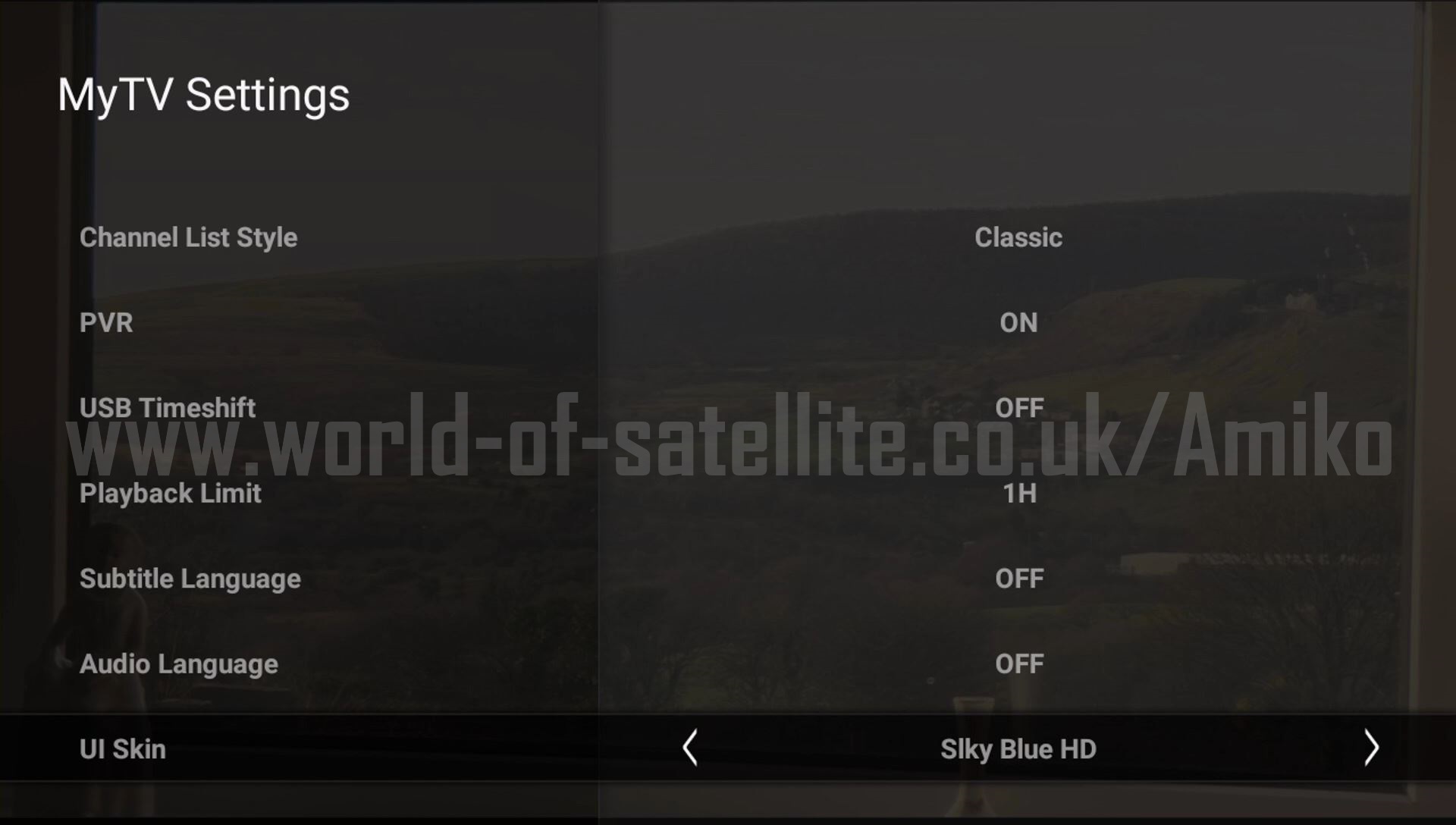 Default Skin Channel list, Grid EPG and Infobar*.
*Note that MYTV does not come with any channels, video content or portal's pre-loaded.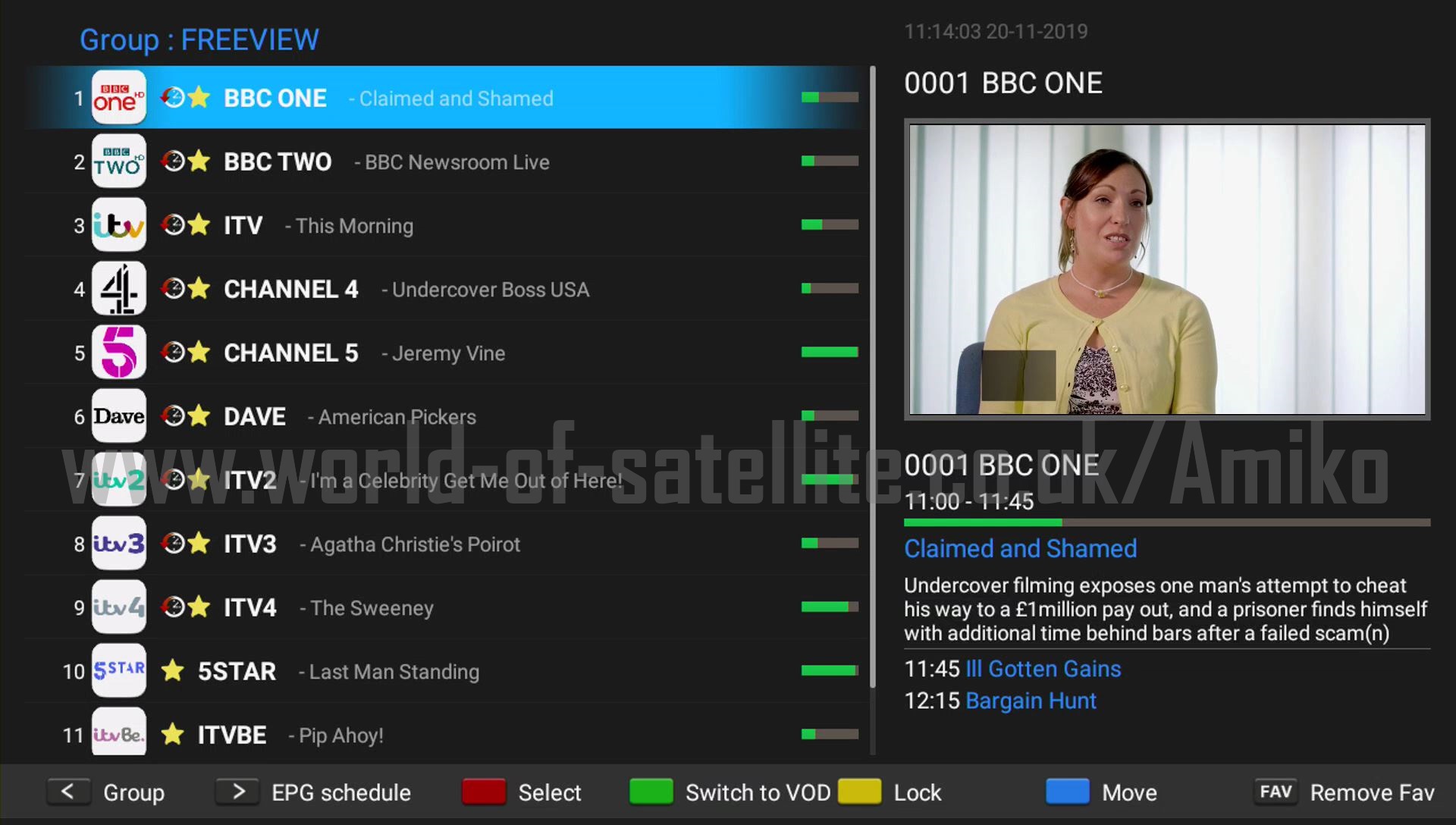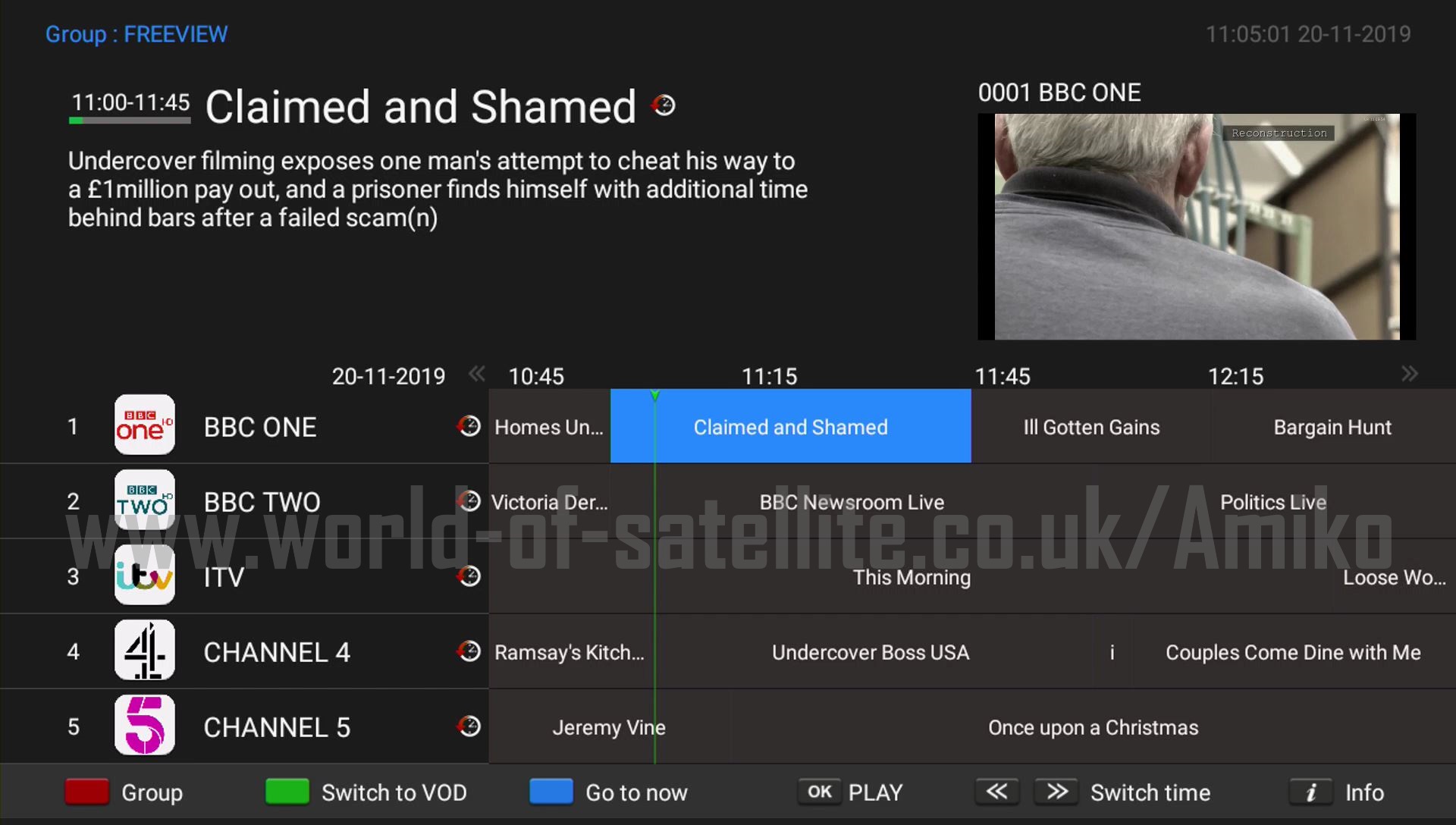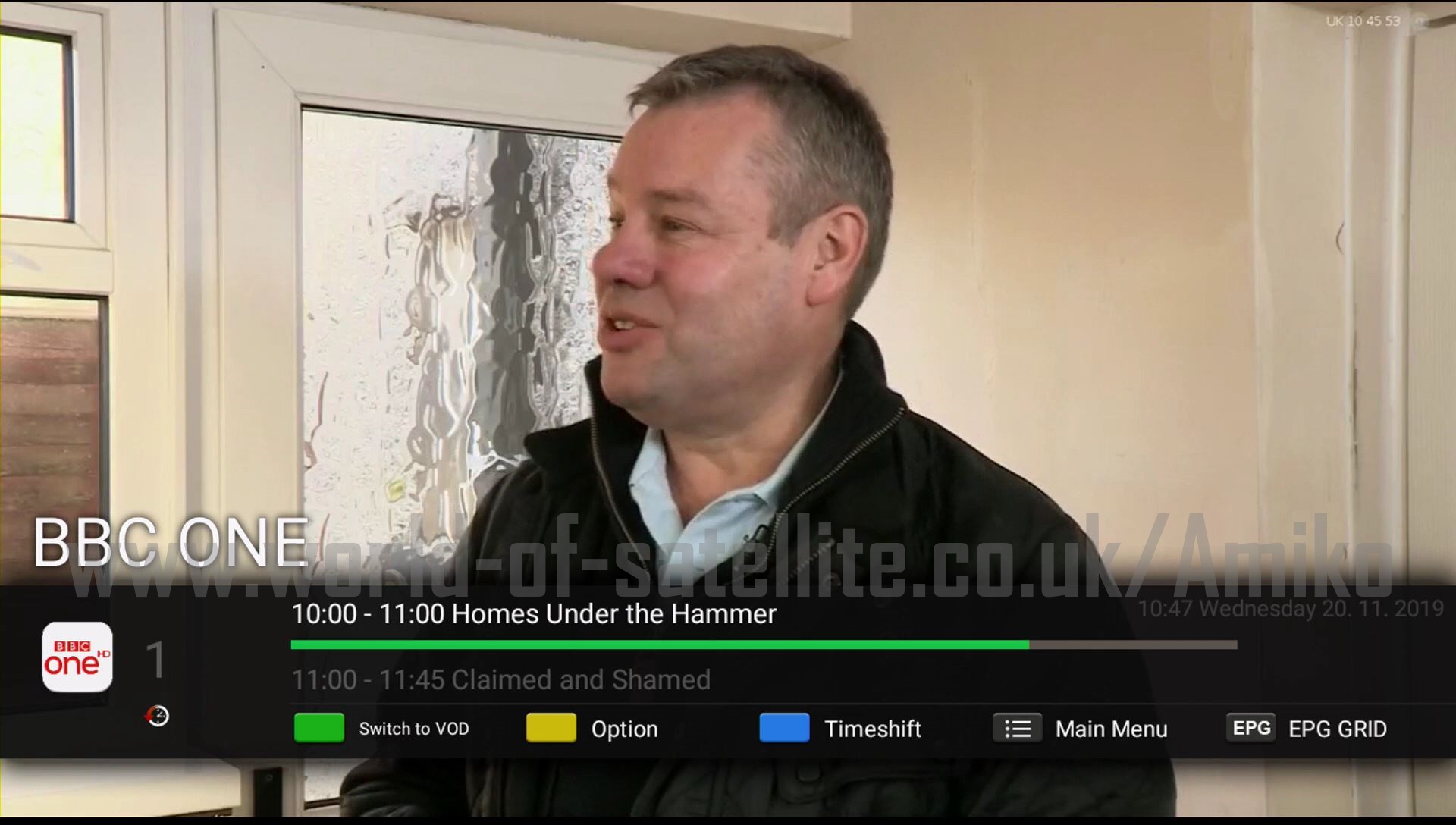 Slky Blue HD Skin Channel list, Grid EPG and Infobar*.
*Note that MYTV does not come with any channels, video content or portal's pre-loaded.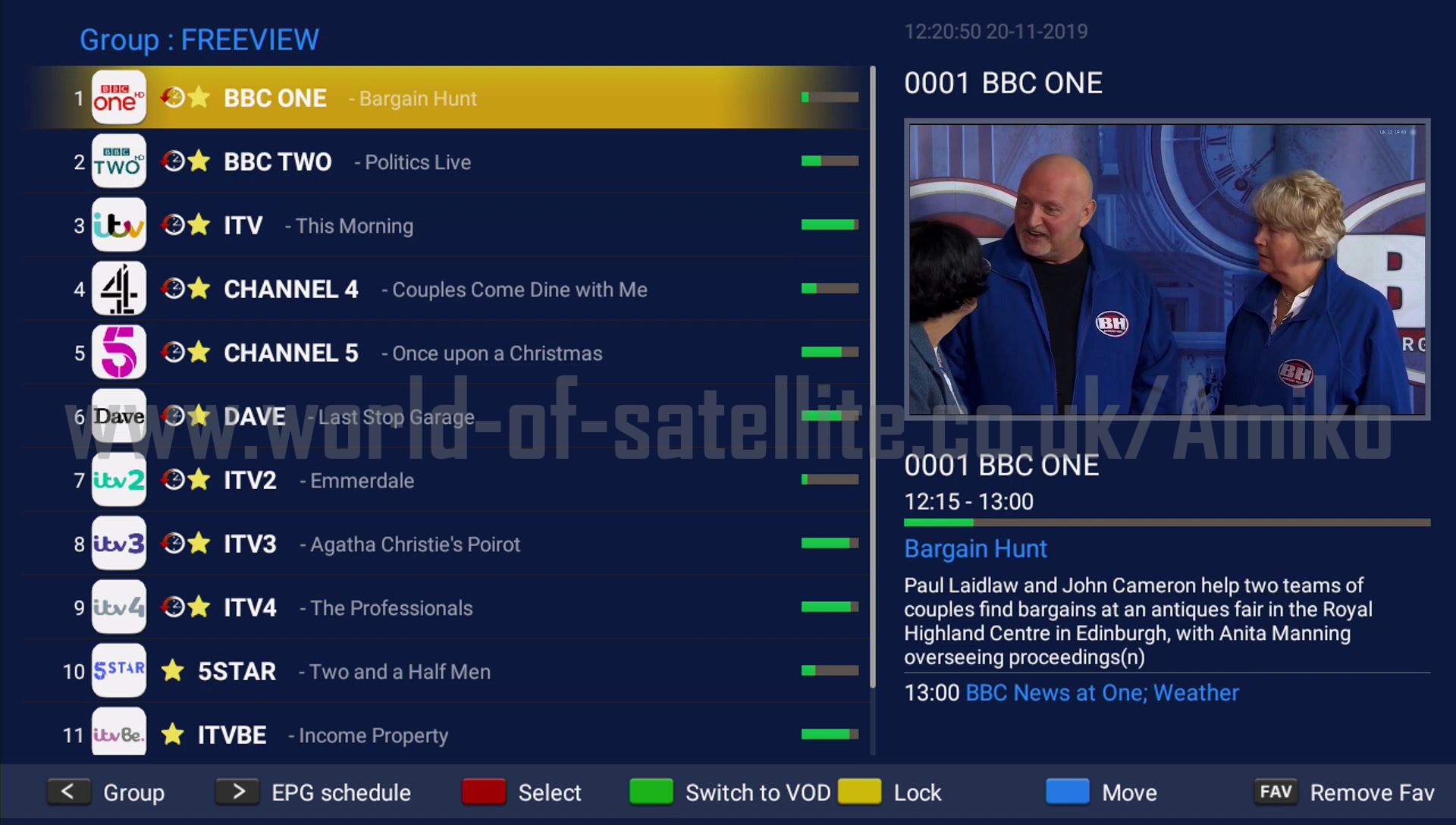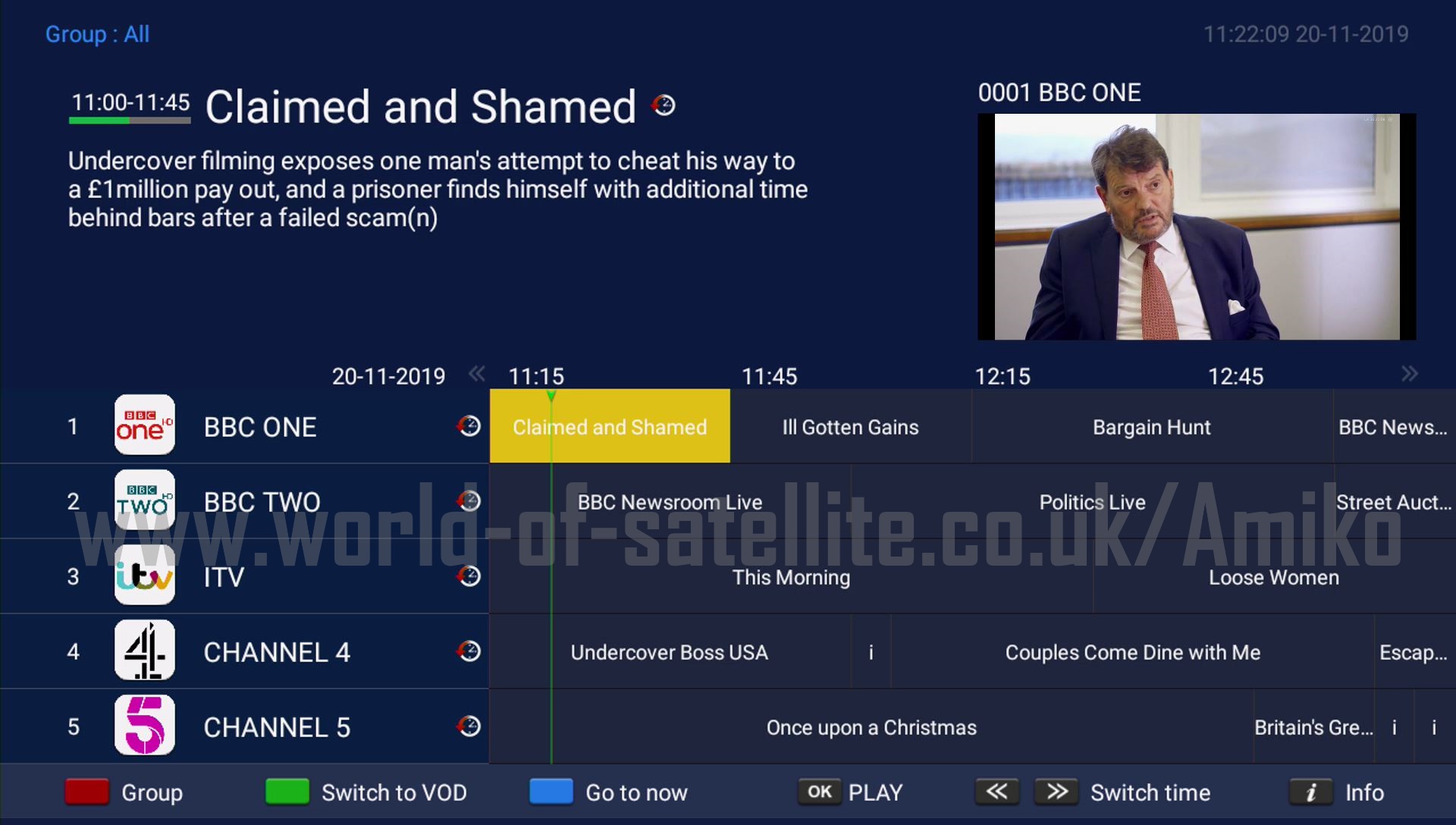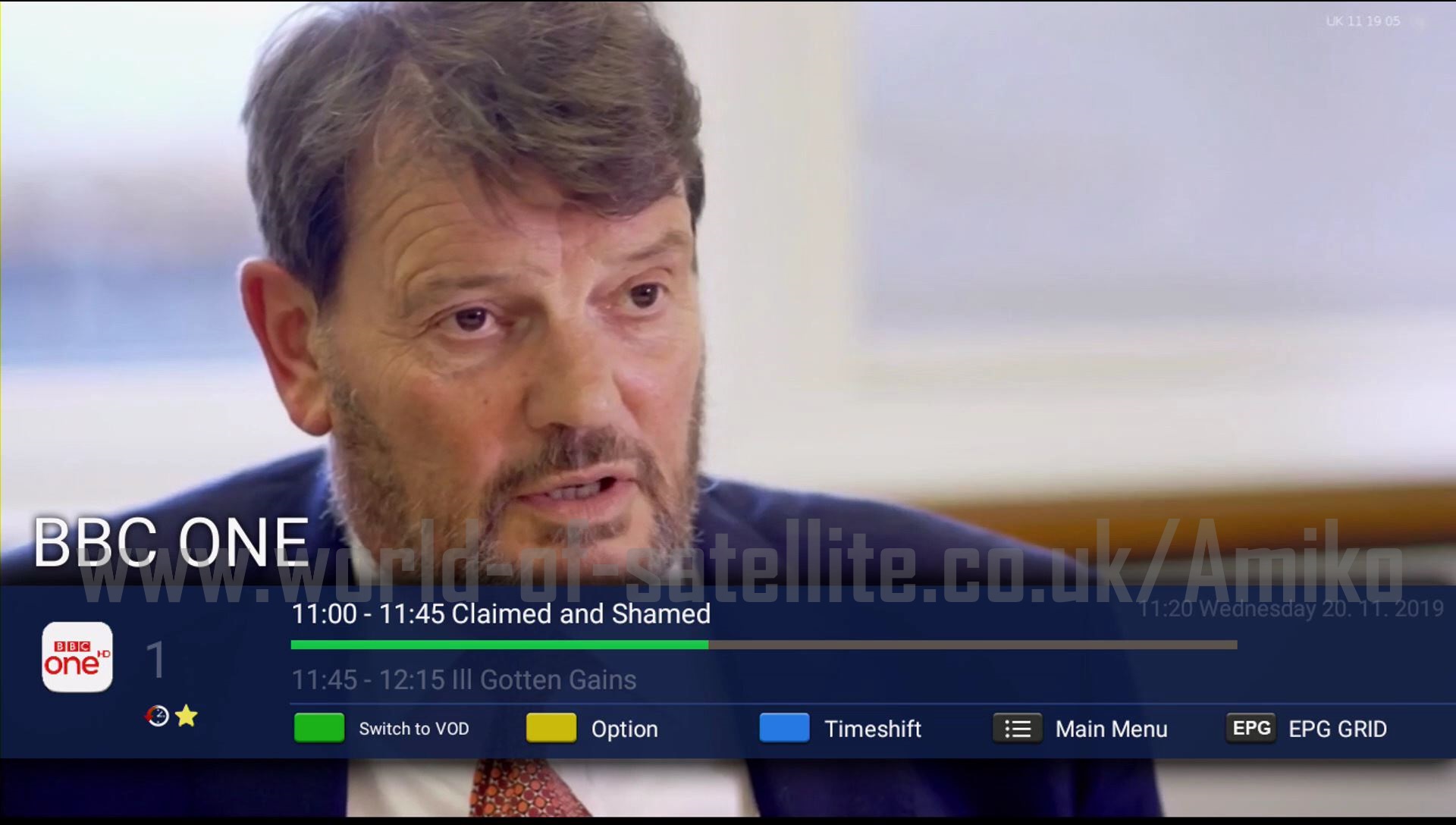 Amiko A6 System & Settings Menu.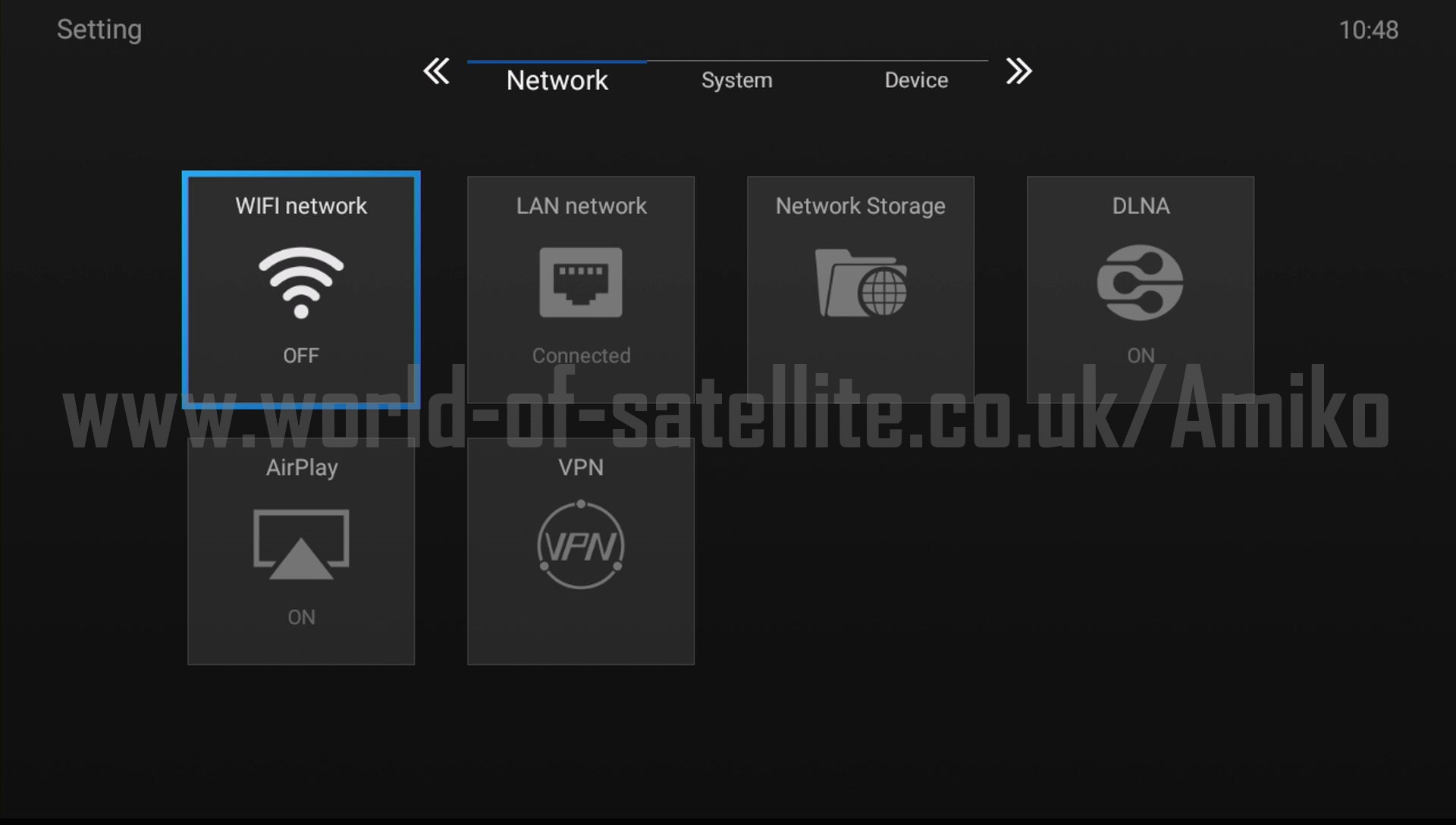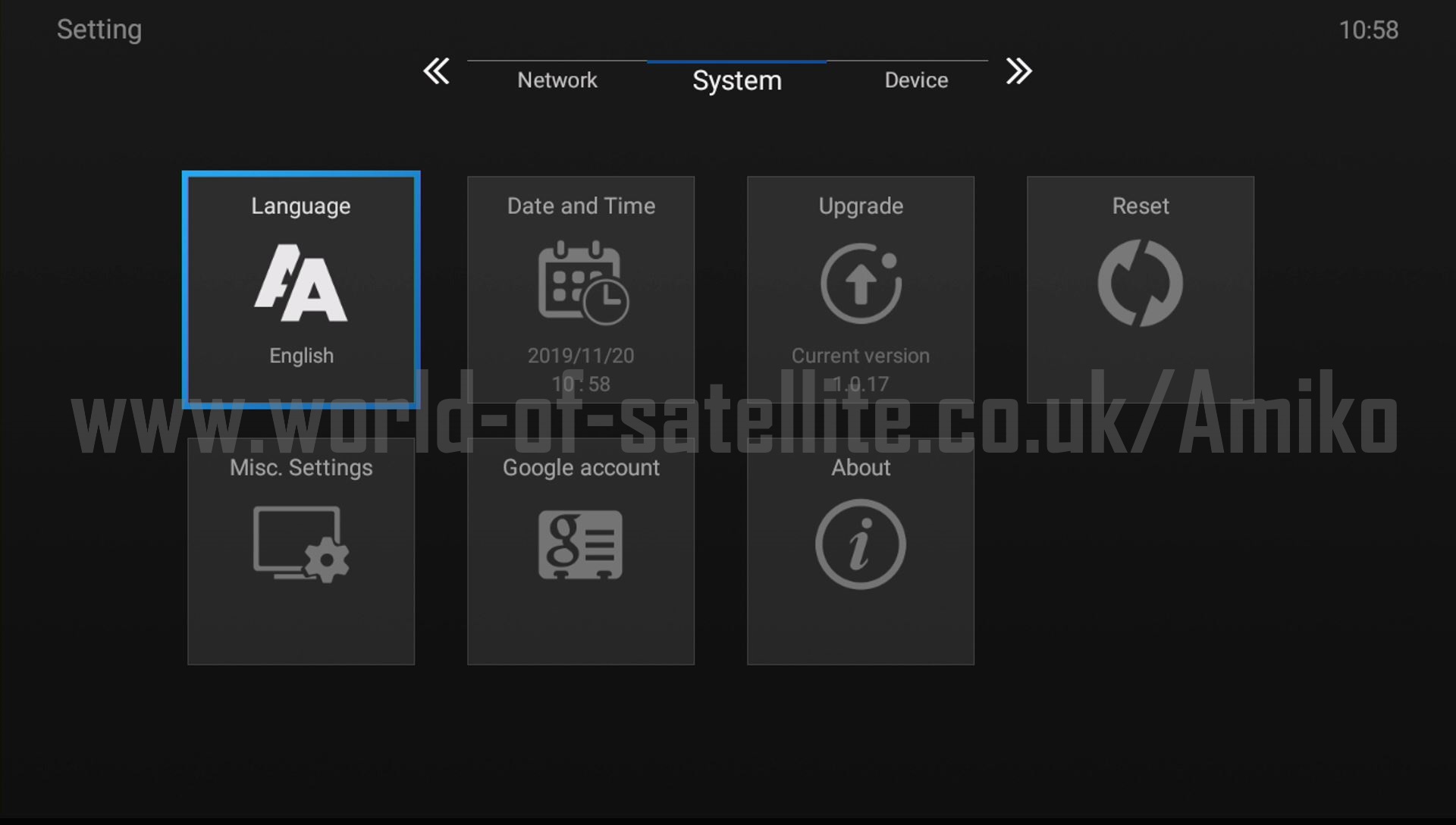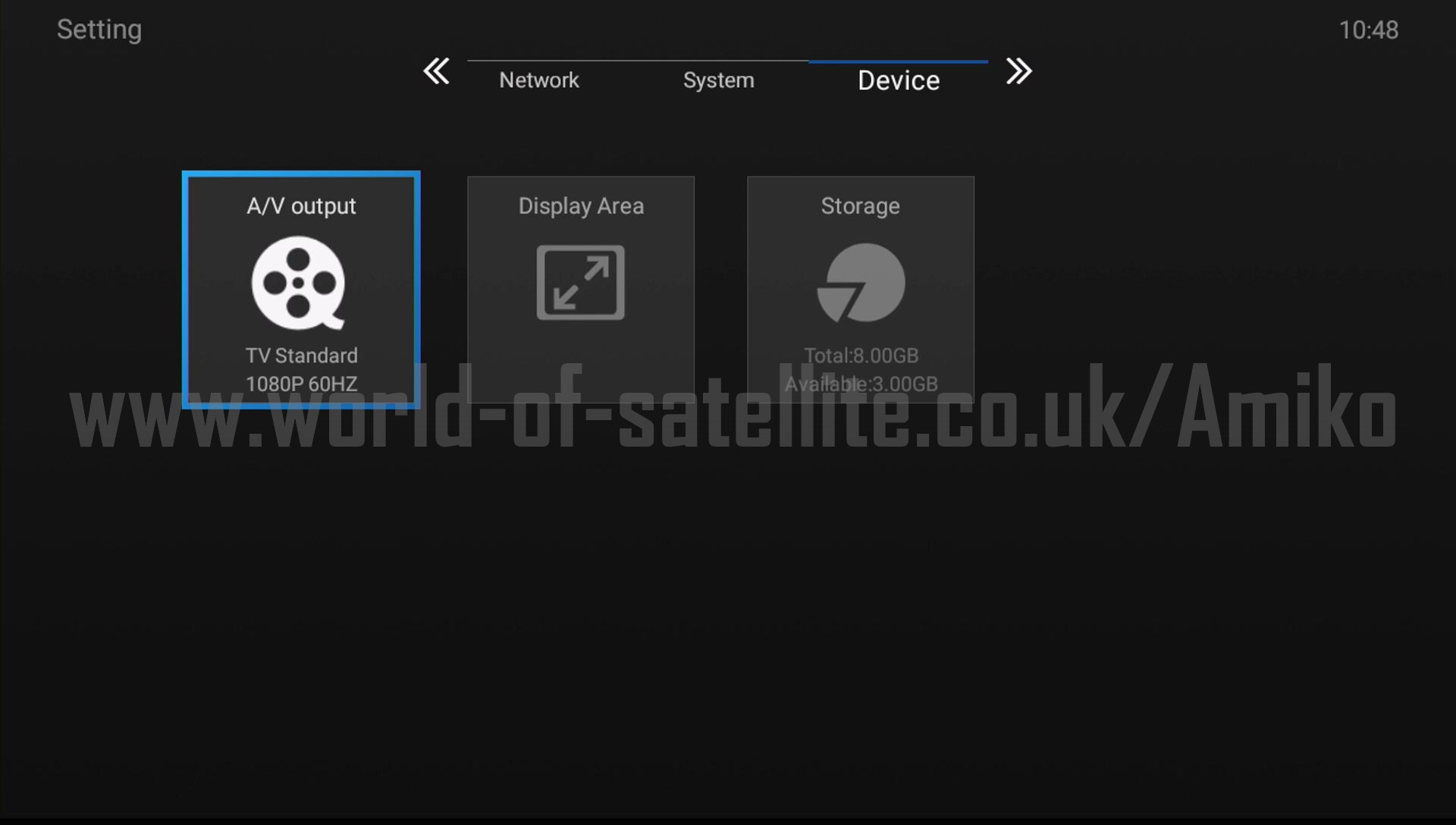 FEATURES:
DVB-S/S2 + T/T2C Hybrid Tuner




MyTV (Stalker) Support

Catch-up TV Support

4K 2160p Support

Android based OS

Online Firmware Updates

Built in Wi-Fi & Ethernet
SPECIFICATION:
System Resources
Main CPU: 64bit Quad Core 2.0GHZ Processor
Main GPU: Octo-core Mali 450MP GPU(600MHz)
DDR: 2GB DDR
EMMC: 8GB
Tuner & Demodulation
Tuner Type: DVB-S / DVB-S2
Input Connector: F-Type (Female)
Signal Level: -65 to -25 dBm
LNB Power: Vertical: +13V/14V,
Horizontal: +18V/19V
LNB Current: 400mA max (overload protection)
22kHz Tone: Frequency: 22 kHz ±4kHz
DiSEqC Control: Version 1.0, 1.1, 1.2, USALS
Demodulation: QPSK, 8PSK
Input Symbol Rate: 2-45Mbps, Convolution Code
Rate
FEC: 1/2, 2/3, 3/4, 5/6, 7/8, 1/4, 1/3, 2/5, 3/5, 4/5, 8/9, 9/10, auto
Tuner Type: DVB-T2 / DVB-T/ DVB-C
Frequency Range: 48~862MHz
RF Input Level: -80dBm to -20dBm
Antenna power output: DC 5V at max 75mA, Overload protection
Demodulation: COFDM 1K, 2K, 4K, 8K, 16K, 32K normal and extended
Input Symbol Rate: 1.0 ~ 7.0Ms/s
Constellations: QPSK, 16QAM, 64QAM, 256QAM / Both rotated and non-rotated
Guard Intervals: 1/4, 19/256, 1/8, 19/128, 1/16, 1/32, 1/128
Code Rate: 1/2, 3/5, 2/3, 3/4, 5/6
Audio / Video Decoding
Input Rate: Max. 120Mbit/s
Aspect Ratio: 4:3, 16:9
Video Decoding: H.265/HEVC, MPEG-2, MP@ML,
MPEG-4 Part 10 / H.264
Video Resolution: 720*480p/i, 720*576p/i,1280*720p, 1920*1080i/p, 2160p
Audio Decoding: MPEG-1 layer I/II, Mpeg2 layer II,
Dolby Digital
Audio Mode: Left / Right / Stereo / Mono
Sampling Rate: 32, 44.1 & 48KHz
Interfaces:
HD OUT: Type-A, Version 2.0
IR: Jack Type
USB: 2x High Speed USB2.0 ports
SD Card: 1 MicroSD card slot (up to 32GB)
Ethernet: 100Mbps RJ45
WiFi: 2.4G single band wifi
S/PDIF: Optical for digital audio output
Power Supply:
Type: External power supply
Input voltage: 110V - 240V AC
Output voltage: DC 12V (1,5 A)
Stand-By power consumption: <0.5W
Physical Specifications:
Size (WxDxH): 140mm x 100mm x 31mm
Operation Temperature: 0ºC - 40ºC
Storage Temperature: -10ºC - 70ºC
Storage Humidity: 5-95% RH (Non Condensing)
Interfaces & Connectivity
Front LED Display
2 x USB2.0
1 x HDMI
1 x RJ45
1 x Mirco SD Card Slot
1 x IR EXTERNAL
1 x DC in
1 x SPDIF
Giftbox Contents
Amiko A6 Combo Hardware
Amiko New Revision Remote Control
Amiko A6 Combo Quick Start Guide
IR Eye Remote Control Extender
HDMI Cable
AAA Batteries x 2
12V UK 3 PIN Plug Power Supply

NOTE: Features listed here may require additional and/or periodic firmware updates. We are not responsible for third party firmware and features, addons, patches, softcams, plugins or third party services and the availability of such services on this receiver (such as YouTube, etc.). Your warranty covers receiver hardware only and is not extended to software updates or setup, we may however extend this at our discretion to offer support for FTA (free to air) reception where the service provider permits connection to their network. Further details can be found in our Terms and Conditions HERE.
Amiko A6 Combo Hybrid DVB-S/S2 + DVB-C/T2 OTT IPTV Media Streamer Receiver
£99.00

Ex Tax: £82.50

---

2 or more £97.00
5 or more £94.00