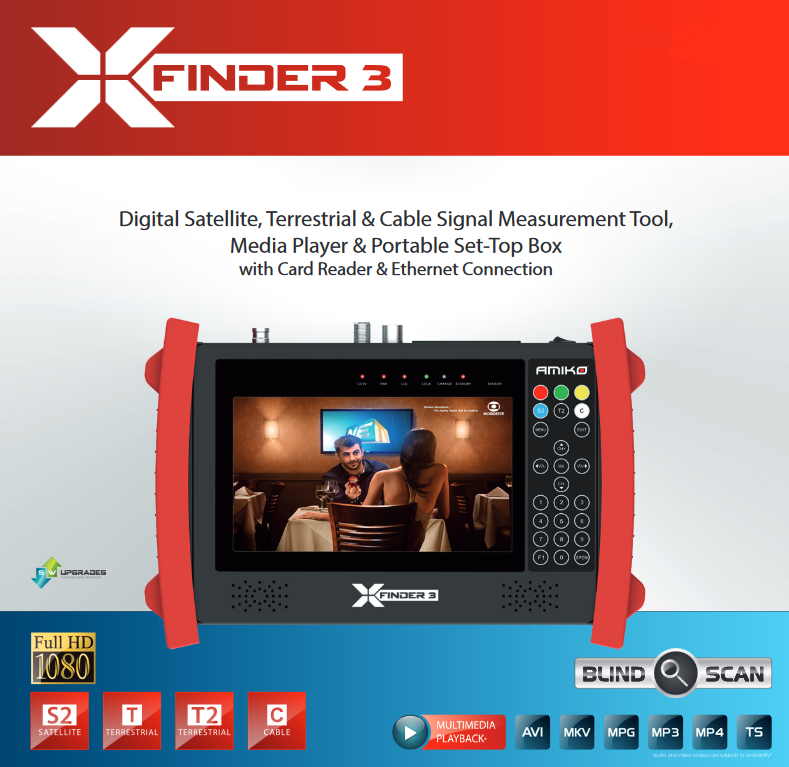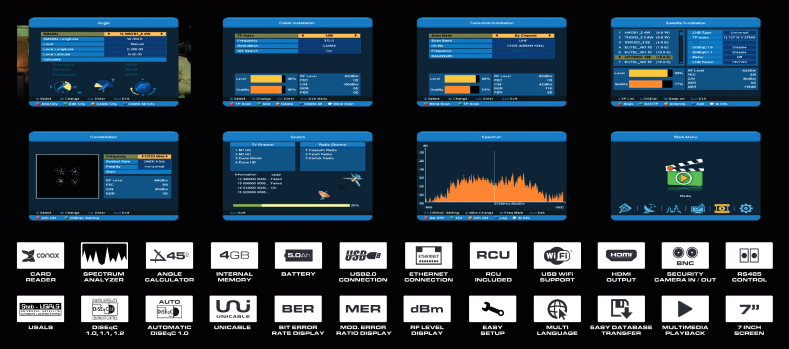 Amiko X-Finder 3
Crazy offer only £189! BEST PRICE ANYWHERE!
At a glance features:

Satellite, T2/T Terrestrial and Cable Signal Measurement.
Full feature portable set-top box.
7" color display.
One Conax Embedded card reader.
One Common Interface Slot.
BNC for analogue camera input.
Satellite Blind Scanning support.
Spectrum Analyzer.
Satellite Dish Angle calculation.
Constellation measurement.
Dynamic Error Rate Calculation & Display.
High Speed USB 2.0 connection.
Multimedia playback (MP3, MP4, MKV, AVI, MPG, etc...).
Ethernet Connection.
USB WiFi support (Ralink RT5370 chipset).
Full HD (1080p) video output via HDMI.
DC 12V output connection.
Unicable & DiSEqC 1.0, 1.1, 1.2 & USALS support.
Remote Controller included.
Car Charger included.
Two handles for both left and right handed use.
Built-in kickstand.
Easy Database Management and Transfer via USB.
Easy Software Upgrades through USB & Internet.
Full Specification:
System Resources:
Main Processor: 800 MHz based CPU
Flash Memory: 64 Mbits
DDR RAM: 2048 Mbits

Satellite Tuner:
Tuner Type: DVB-S / DVB-S2
Input Connector: F-Type connector, female
Frequency Range: 950MHz - 2150MHz
Signal level: -65 to -25dBm
LNB Power & Polarization: Vertical: +13V
Horizontal: +18V
Current: 300mA max
Overload protection
22KHz Tone: 22±1KHz
DiSEqC Control: Amplitude: 0.6±.02V
Version 1.0, 1.1, 1.2, USALS
Demodulation: QPSK, 8PSK
Input Symbol Rate: 2-45Mbps, Convolution Code Rate
FEC: 1/2, 2/3, 3/4, 5/6, 7/8, 1/4, 1/3, 2/5, 3/5, 4/5, 8/9, 9/10

Terrestrial Tuner:
Tuner Type: DVB-T / DVB-T2
Input Connector: IEC-Type connector, female
Signal Level: Nordig Compliant, DBOOK Compliant
FEC: DVB-T: Viterbi + Reed Solomon 1/2, 2/3, 3/4, 5/6,7/8
DVB-T2: LPDC + BCH 1/2, 3/5, 2/3, 3/4, 5/6
Frequency Range: 47-862MHz
Demodulation: QPSK, 16QAM, 64QAM, 256QAM (both rotated and non-rotated)
Guard Interval: 1/4, 19/256, 1/8, 19/128, 1/16, 1/32, 1/128
FFT Mode: 1k, 2k, 4k, 8k, 16k, 32k normal and extended
Channel Bandwidth: 6 / 7 / 8MHz
Antenna Output Power: 5V 50mA max
Demodulation: COFDM 2K/8K

Cable Tuner:
Tuner Type: DVB-C
Input Connector: IEC-Type connector, female
Frequency Range: 47-862MHz
Signal Level: -20dBmV - +20dBmV
Bandwidth: 8MHz
Demodulation: 16QAM, 32QAM, 64QAM, 128QAM, 256QAM
Input Symbol Rate: 1.5 - 7Ms/s
MPEG TS A/V Decoding:
Transport Stream: MPEG-2, H.265
Input Rate: Max 120Mbit/s
Aspect Ratio: 4:3, 16:9
Video Decoding: MPEG-2, MP@ML, MPEG-4 part10/H.264, H.265
Audio Decoding: MPEG-1 layer I/II, MPEG2 layer II, Dolby Digital, AAC
Audio Mode: Left, Right, Stereo, Mono
Sampling Rate: 32, 44.1, 48KHz

A/V & Data Input / Output:
Video In: BNC type, analogue video input
USB: High Speed USB2.0 connection (Type A)
HD OUT: HDMI Ver 1.3, Type A
Ethernet: RJ45 10/100M

Power Supply:
Input Voltage: AC 100-240V 50/60Hz
Output Voltage: DC 12V 4.5A max
Power Consumption: 48W max
Battery: 7.4V 6.3Ah
Battery Charging Time: 3.5 hours
Battery Discharging Time: up to 6-7 hours

Physical Specifications:
LCD Display: 7 inch
Size: 275mm x 175mm x 50mm (WxHxD)
Net Weight: <2.0Kg
Operation Temperature: 0 - +45°C
Storage Temperature: -10 - +70°C
Storage Humidity: 5%-95% RH (Non-Condensing)
Amiko X-Finder 3 Satellite DVB-S/S2 - Cable / Terrestrial DVB-C/T/T2 Signal Meter + CCTV Camera Tester
£299.00

£189.00

Ex Tax: £157.50
Related Products