Edision HDMI MODULATOR Xtend - HDMI to RF Modulator - Full HD Distribution over Coax | HDMI IN AND HDMI LOOP OUT | IR CONTROL OVER COAX CONTROL.
Only £121.95! Best price anywhere!
EDISION HDMI Modulator Xtend, is a single-channel HDMI to DVB-T MPEG4 FULL HIGH DEFINITION modulator, with RF-in mixing INPUT and IR CONTROL over COAX. Moreover, with its on board HDMI-loop OUTPUT, it provides the solution of connecting it to a TV set on the spot, for content viewing. Its design, provides the solution of installing it on a horizontal surface as well as a vertical one, as it is exactly like an STB, with front panel display, LED indications and buttons. It also has pre-configured and easily selectable programming, with 50 ready and selectable IDs. It receives HDMI signal input from any HDMI source (Terrestrial & Satellite TV receivers, cameras, DVD's, DVR's, etc) and converts it to up to FULL HIGH DEFINITION 1080p, Digital Terrestrial DVB-T MPEG4 signal from its output, in VHF/UHF band. The EDISION HDMI Modulator Xtend produces excellent quality digital COFDM signal output, combined with reliable functionality and stable operation, under all configurations. With USB port for fast CONFIG DATA function. Plus, its FAST PRE-CONFIG function offers 50 pre-configured and easily selectable ID's for quick and easy programming, when more than 1 units in the same installation. It also features IR CONTROL over COAX system, for easy and practical IR control, between the 2 TV points, through the coaxial cable.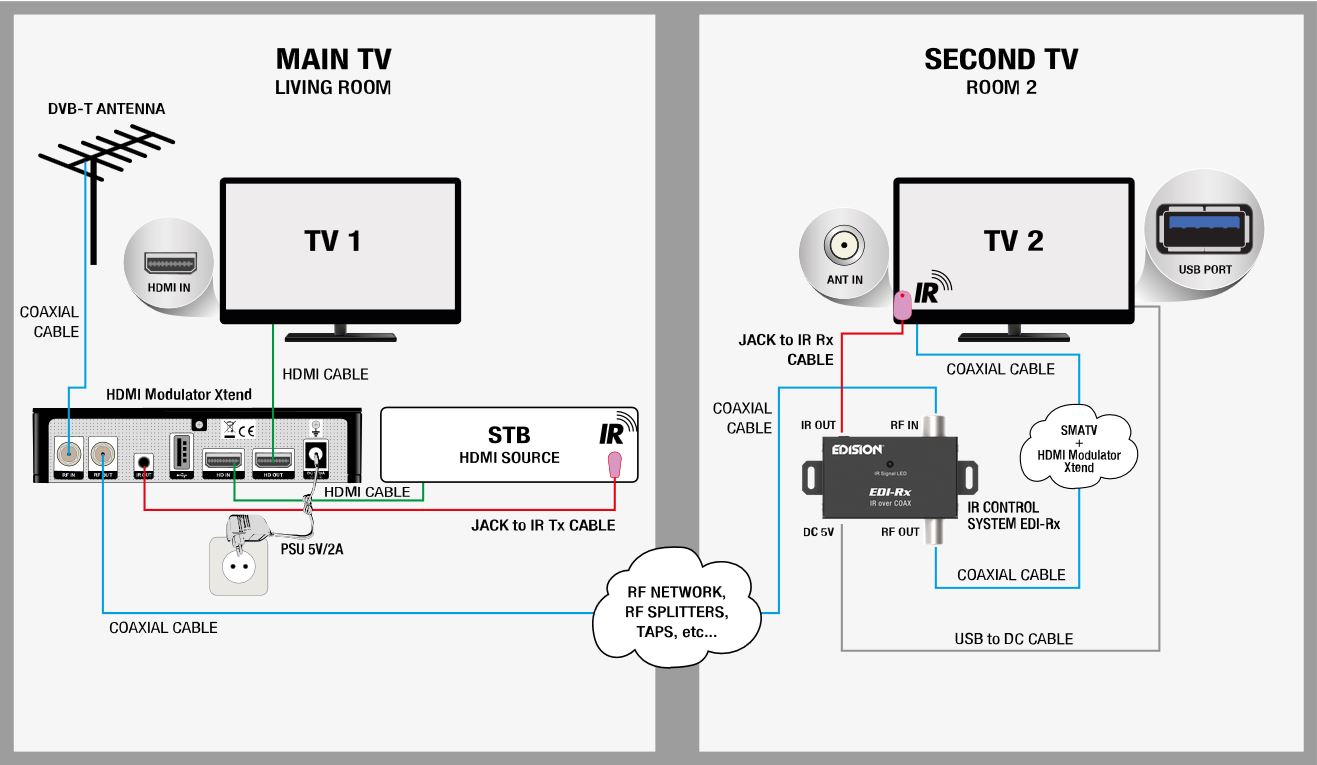 Technical features:
- Digital HDMI Modulator single-channel DVB-T VHF/UHF, with FAST PRE-CONFIG function (50 IDs Selectable) plus CONFIG DATA function (USB extract, easy upload to Modulator)
- HDMI-loop OUTPUT, for connecting it to a TV set on the spot and view content
- IR CONTROL over COAX system, for easy and practical IR control, between the 2 TV points, through the coaxial cable
- DESIGN like an STB, with front panel display, LED indications and buttons
- RF-in mixing INPUT
- INPUT signal: HDMI
- OUTPUT signal: Up to FULL HIGH DEFINITION (1080i, up to 1080p@30FPS), Digital Terrestrial DVB-T signal, MPEG4
- Aspect Ratio 16:9 wide screen, 4:3 letter box, 4:3 pan scan
- Frequency Range VHF (CH. 5-12) & UHF (CH. 21-69)
- RF Output Level: Factory default 90 dbμV, with adjustable gain up to +6dbμV or attenuation up to -14dbμV
- MER: >35dB at Maximum RF output level
- Symbol Rate Up to 31.668 MBPS
- Bandwidth 7MHZ, 8MHZ
- Video Encoder MPEG1, MPEG2 MP@HL , MPEG4 SP@L3 to ASP@L5, MPEG4 AVC HP @level4.1, MP@level4.1
- Audio encoder MPEGI L1/2, MPEGII LII, AAC LC, HE-AAC v1/v2 (2-CH)
- Processor System: CPU 200MHz 32Bits RISC
- Memory DDRII 16bit 512Mbits (Embedded) & NOR Flash 32Mbit
- Input HDMI v1.4a
- USB Type USB 2.0 HOST, Fat32 support
- 4-digit LED display
- Power supply unit type: Adapter Input:100~240V AC,Output:DC 5V/2.0A
- Power consumption in normal working mode: 10W maximum
- Dimensions: 125x145x35 mm
- Colour: Black
- Warranty: Two [2] years
Package includes:
First TV equipment
- HDMI Modulator Xtend
- Jack to IR Tx cable
- 5V/2.0A EU/UK universal Power Supply Unit
Second TV equipment
- IR Control System EDI-Rx
- Jack to IR Rx cable
- USB to DC (5V) cable
General
- User Manual EN/DE/GR
Edision HDMI MODULATOR Xtend with IR CONTROL OVER COAX
£129.00

£121.95

Ex Tax: £101.63
Related Products
Tags: DISTRIBUTION, COAX, OVER, HD, RF, MODULATOR, HDMI, XTEND, EDISION