OCTAGON SF8008 TWIN S2X 4K UHD 2160p H.265 HEVC Linux Enigma 2
Dual Wifi Multi-Stream Twin Satellite DVB-S2X Tuners.
Octagon SF8008 PRE-SETUP FREE OF CHARGE FOR FREESAT PVR.*

Sky Satellite dish or Universal Satellite dish with a Universal or Hybrid LNB required.
*We will pre-setup our best selling Octagon SF8008 Twin S2X model with **OpenViX software and your chosen Freesat region. Simply select your Freesat region when ordering and we'll set the receiver up for you to plug and play as a *recordable PVR (USB storage required). **More OpenViX software information HERE.
A concise numerical easy to navigate Freesat channel list will be setup as per your chosen region. For example BBC One HD will be 101, BBC Two HD 102, ITV HD 103..... etc.
Easy to use for the whole family.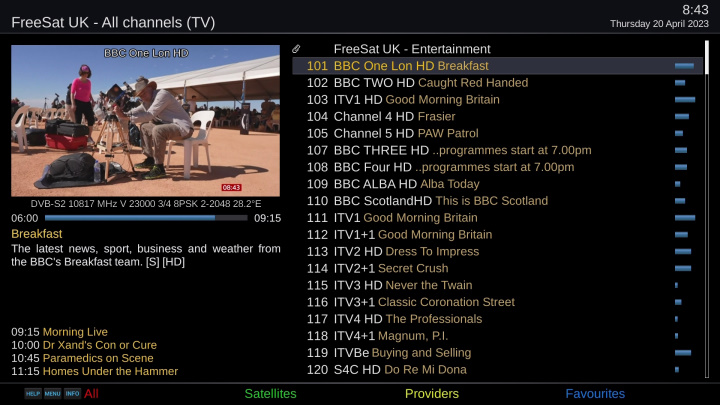 Pre-setup favourites bouquets for All Channels, Entertainment, News & Sport, Movies, Music etc...Easily navigate favourites bouquets via coloured buttons on the remote control.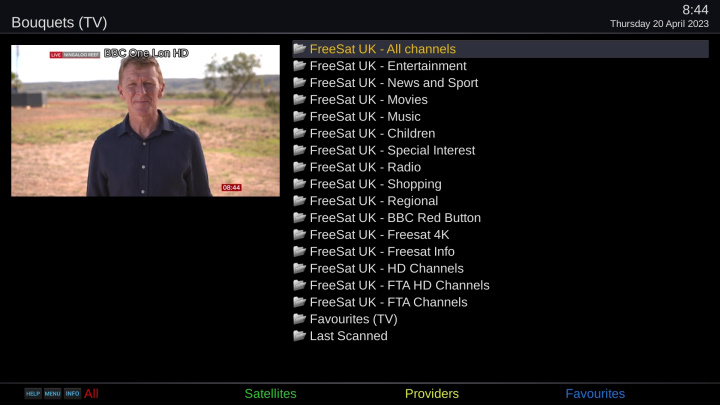 Pre-setup with to download 7 day EPG (Electronic Program Guide) via the satellite signal.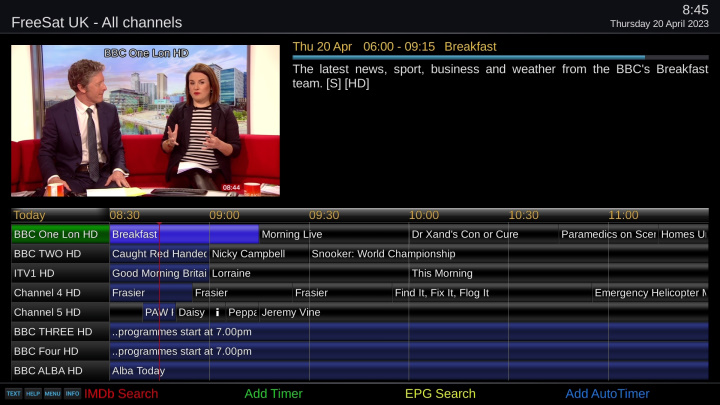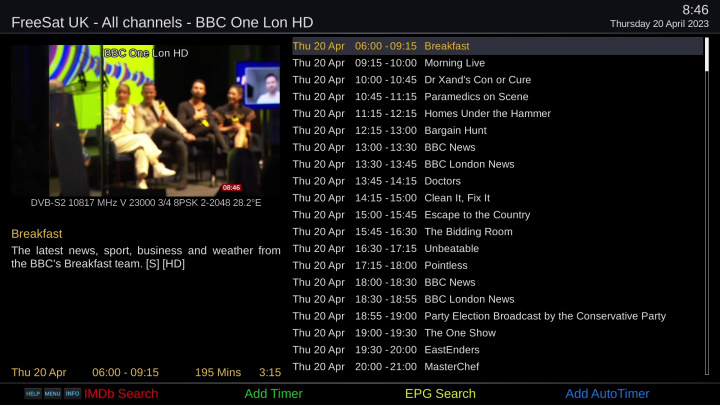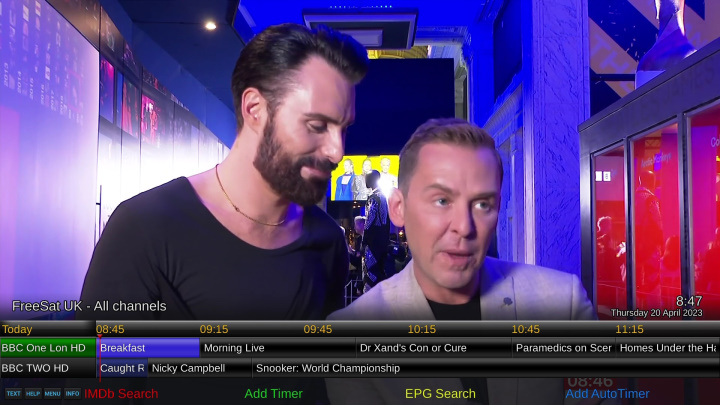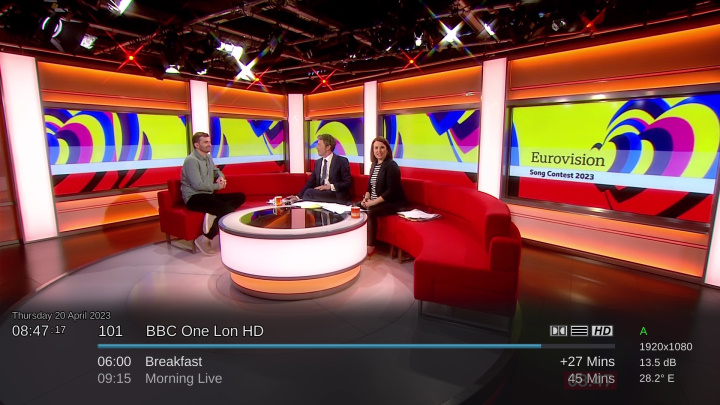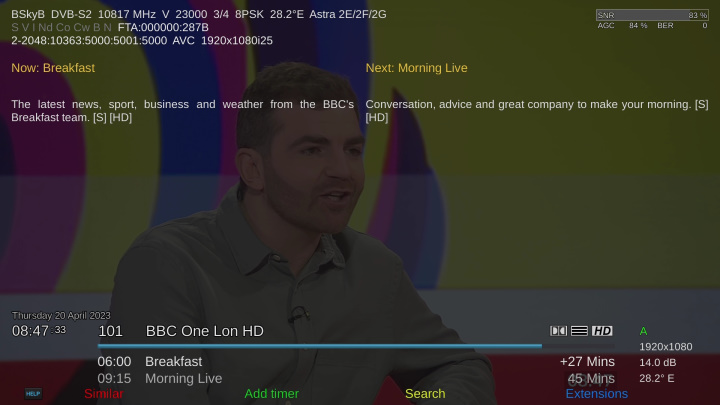 We can setup to use as a single or twin satellite tuner receiver as per your selection when ordering. Please check prior to ordering so we can setup each tuner correctly. To watch and record numerous channels we recommend setup as a twin satellite tuner (two satellite feeds direct to your satellite dish LNB required).

Easily setup Timer recordings or Autotimers (series link) via the EPG (Electronic Program Guide).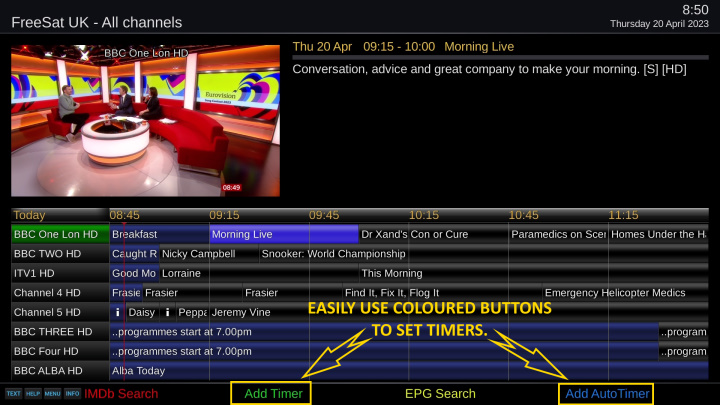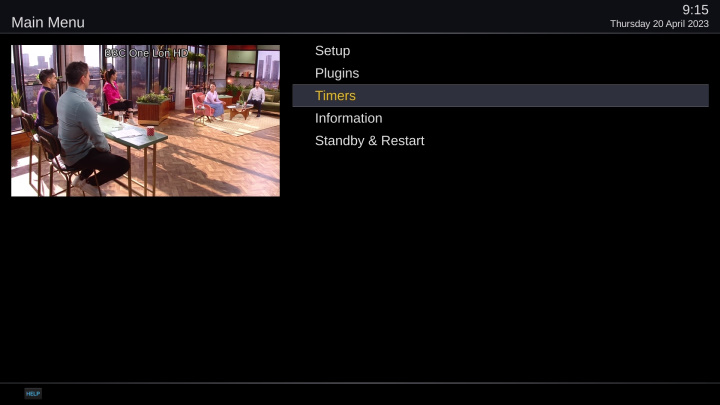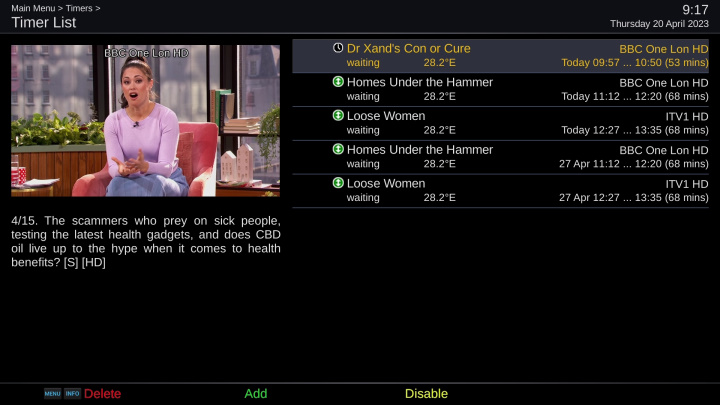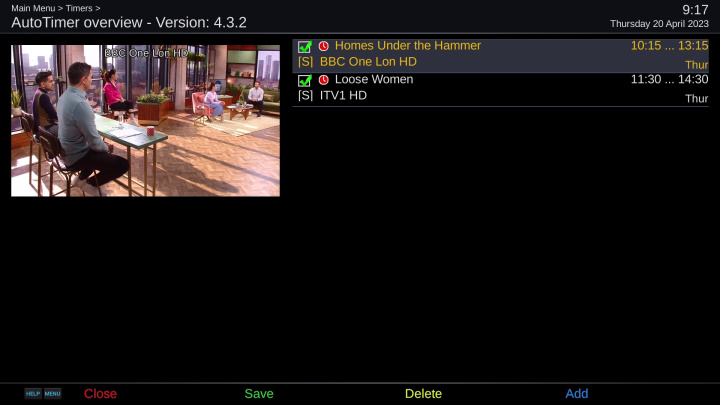 As standard we will setup the device to output FULL HD 1080p. Easily change to 4K output via the menu system, Menu > Audio & Video > Settings > Set 'Mode' & 'Refresh Rate' to suit your TV.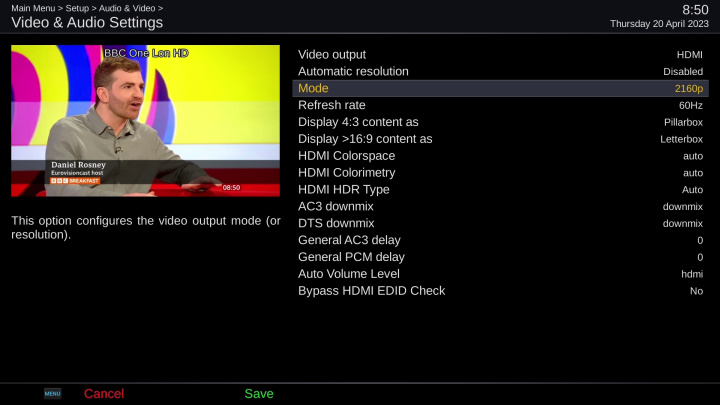 ADD 500GB PRE-FORMATED USB HDD ONLY £30.00 READY TO RECORD YOUR FAVOURITE PROGRAMS!
FREE UK & NORTHERN IRELAND SHIPPING!
TWO YEAR HARDWARE WARRANTY AS STANDARD!
4K UHD, Quad Core 1.6GHz CPU, Blindscan, KODI and STALKER Plugins Available!
WE ARE THE ORIGINAL OFFICIAL UK AND IRELAND OCTAGON DISTRIBUTORS.
SPECIAL DEALS FOR TRADE AND RE-SELLERS, CONTACT US FOR PRICING.
The Octagon SF8008 is the first Linux Enigma 2 receiver to support
hardware Kodi playback that uses Kodi's own media-player!
Octagon proudly presents their second 4K UHD Receiver SF8008. Octagon SF8008 TWIN S2X has two fixed Satellite DVB-S2X tuners. Other great features of the Octagon SF8008 are USB 3.0 port, Gigabit LAN interface and HEVC265 video decoding. Experience a new 4K feeling with the new Octagon SF8008.
The Octagon SF8008 TWIN S2X is suitable multi-stream and is powered by a 15,000 DMIPS CPU, 1GB DDR4 RAM & 8GB eMMC flash for lightning fast switching times.

Octagon SF8008 4K UHD supported OpenViX, OpenATV, OpenEIGHT, PurE2 and other 3rd party Enigma 2 images coming soon, download additional plugins, HDR, HLG and H.265 decoding.

Gigabit LAN with 1000Mbps ensures fast connection of your high-resolution content, in addition the Octagon SF8008 has built in WiFi with two WLAN antennas.

The Octagon SF8008 S2X TWIN 4K, with its USB 3.0, USB 2.0 and MicroSD slots and card reader, provides ample opportunities to play content from external storage media to further enhance the entertainment experience.

The Octagon SF8008 also features HDMI 2.0, AV (Audio & Video) and S / PDIF output for digital audio, and consumes less than 0.5Watt in standby.
Key Features:
- Hisilicon Hi3798MV200 Huawei
- Quad Core 64Bit (4x 1.6GHz) 15000 DMIPS
- Flash 8GB eMMC
- RAM 1GB DDR4
- Gigabit LAN Ethernet (1000Mbps)
- WiFi built in, 300Mbit, 2x WiFi antennas
- 4-digit 7-segment display
- Card reader
- DVB-S2X (2x tuner)
- HDMI 2.0a & USB 3.0
- MicroSD slot

Specifications:
- Enigma2 Linux OS operating system
- DVB-S2X 4K UHD & Multistream
- PIP HD & UHD (picture in picture)
- HDR 10bit & HLG
- blindscan (blind search)
- Kodi
- HbbTV
- Stalker
- HW multiboot
- ffmpeq HW Playback Support
- 2160P Media Playback H.264 and H.265 HEVC
- OTA updates
- PVR recordings (* optional)
- 0.5W stand-by

Front:
- Power button on / off button
- 4-digit 7-segment display
- LED display (red / blue)
- IR sensor (infrared receiver)

Rear:
- H.265 HEVC 4K UHD DVB-S2X tuner LNB input 2x
- Dolby S-PDIF
- AV - Audio Video Jack - Jack to RCA
- RS-232 socket (maintenance & service)
- WiFi 2x WiFi antennas
- HDMI 2.0a output
- USB 2.0 port
- Network Gigabit LAN (1000Mbps)
- MicroSD slot
- Recovery (Reset) button
- DC-12V power supply
- Power switch on / off

Right Side:
- USB 3.0 port
- Card reader (CA CARD)

Package Contents:
- Receiver OCTAGON SF8008 S2X TWIN
- Remote Control
- 2 x batteries
- Operating instructions (German & English)
- HDMI cable
- power supply (power supply) UK customers will receiver a FREE British Stanard Compliant UK Plug adapter

Tuner & demodulator:
- DVB-S2X: Silabs Si2166-D60 & RDA5815m

Others:
- Dimensions (LxDxH) 220mm x 125mm x 40mm
- EAN barcode 4260189995146
- Power supply (power supply) DC12V-2A
NOTE: Features listed here may require additional and/or periodic firmware updates. We are not responsible for third party firmware and features, addons, patches, softcams, plugins or third party services and the availability of such services on this receiver (such as YouTube, etc.). Your warranty covers receiver hardware only and is not extended to software updates or setup, we may however extend this at our discretion to offer support for FTA (free to air) reception where the service provider permits connection to their network. Further details can be found in our Terms and Conditions HERE.
OCTAGON SF8008 S2X TWIN 4K UHD 2x DVB-S2X PVR - PRE-SETUP FOR FREESAT UK.
Related Products
Tags: kodi, satellite, twin, stalker, uhd, 4k, octagon, s8008, dvb-s2x, blindscan, iptv