Brexit and European orders from 1st January 2021.
This information page is aimed at trying to explain changes due to the UK's exit from the European Union on 1st January 2021.
*** PLEASE BE AWARE THAT DUE TO BREXIT VAT WILL BE DEDUCTED FROM ALL ORDERS
OUTSIDE OF THE U.K WHILST PROCEEDING THROUGH CHECKOUT.
OUR COURIERS OR CUSTOMS WILL COLLECT VAT & DUTY IF APPLICABLE BEFORE OR SHORTLY AFTER DELIVERY.***
***ALL CUSTOMERS PLEASE NOTE THAT THERE MAY BE DELAYS WITH EUROPEAN SHIPMENTS
OF A FEW DAYS DUE TO BREXIT CUSTOMS CLEARANCE AND COVID-19.***
With the UK exiting from both the EU Single Market and Customs Union this means:
1) From 1/1/2021 all our prices for European Union delivery will be quoted exclusive of VAT.
For example, the Formuler GTV currently priced at £144.95 including VAT at 20% will be priced at £120.79 exclusive of VAT.
To view prices excluding VAT:
1a) Add a product to your shopping cart.
2a) View Cart.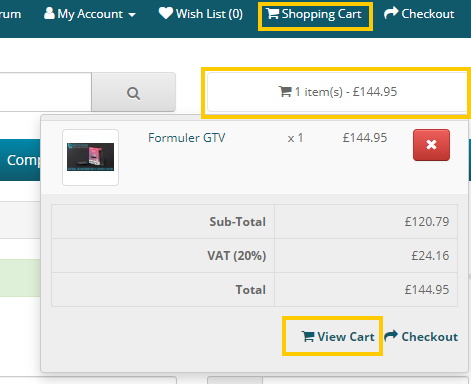 3a) Estimate Shipping & Taxes.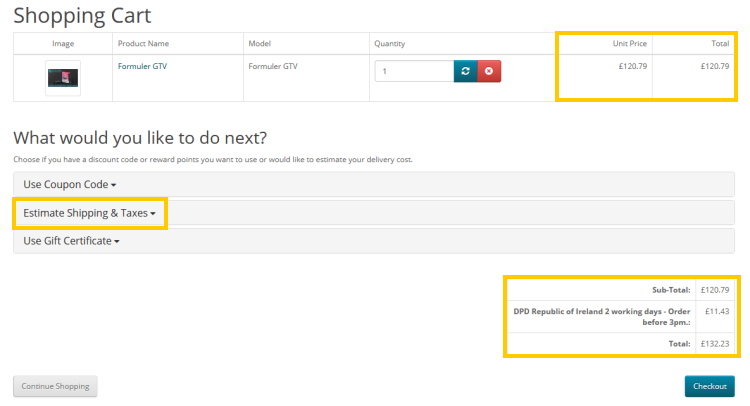 4a) If you do not 'Estimate Shipping & Taxes', VAT will automatically be removed from step 6 of checkout.

Over the 2020 Christmas period we've received a number of orders from customers around Europe, these orders will be manually re-entered into our order system and VAT refunded as these will not be shipped until week commencing the 4th January 2021.
In simple terms this is a lower price so European Union customers will pay less at source. However, the VAT (IVA, sales tax) element will still be due in the European country so domestic customs authorities may try to collect it.
In practical terms it will be extremely costly for European customs authorities to intercept all small parcels sent from the UK, so they may introduce a lower limit for collection (e.g. they only attempt to collect VAT on items declared for customs at 100 Euro or higher). So, it could be that Brexit allows our European Union customers to pay a lower total price. Only time will tell.
The Customs Union changes come into force for items shipped from the UK after 31/12/2020, so everything shipped by us before that includes VAT.
2) There may be some delays with custom checks as it seems unlikely that either the UK or European Union will be fully ready for customs checks on the UK border. This might result in shipping delays between the UK and EU.
3) Warranties and Consumer Rights.
After 1/1/2021 all our orders will be governed entirely by UK Consumer Law. In reality the UK never fully signed up to EU directives in this area anyway, so very little will change. We'll still offer 2 year warranty (where applicable) plus 14 day returns, and we'll honour all warranty/terms for past orders.
Please rest assured, our customer service and support to our European customers, friends and partners will not change, we look forward to your continued custom.